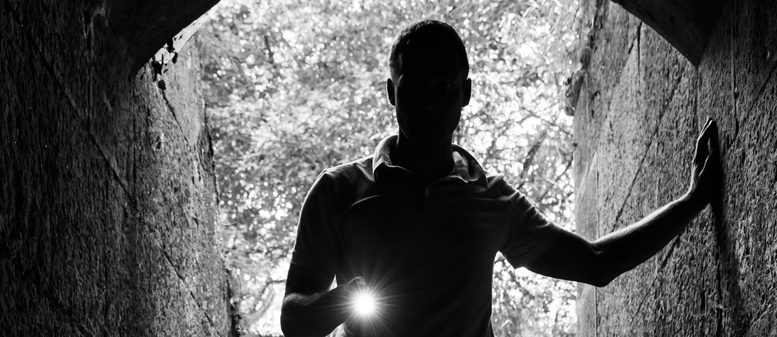 25 Apr
Uncategorized
3 Strange Stories from Home Inspectors
by Punctual Abstract
Last month, Ronda Kaysen wrote an interesting piece in The New York Times, "Home Inspectors on Their Weirdest Discoveries," wherein she reveals the strangest secrets that home inspectors have uncovered on the job – from covered up failed renovation attempts to befuddling things left behind by former occupants.
Home Inspectors, Voodoo Curses and House Guests
One of the stranger stories is that of Patrick Burns, a Corcoran agent, who found little paper ghosts strewn about a Brooklyn townhouse left behind by renters. 60 paper figurines tied with twine were hidden throughout the building, including onehanging ominously in the basement. "It was very creepy," Burns said. "It reminded me of some sort of voodoo-style curse. It really, really freaked out our client."
In addition to the paper ghosts, Burns noticed on his final walk-through damage to the entrance, luggage, and his own cart that went missing now filled with clothes, books, potato chips, and other items. The police determined that a vagrant had been living in the basement.
Floating Floorboards
Vincent Fundaro, the owner of Square One Professional Home Inspectors in Levittown, N.Y., came across an interesting surprise while inspecting a condominium in Manhattan. The $1.8 million apartment was ostensibly newly renovated. As he inspected the ground floor, he tripped on the carpet and discovered that the floorboards beneath were floating in water. The seller had attempted to hide the water damage with newspapers and plastic, now thoroughly soaked.
Understandably, the buyer was furious and the seller's broker insisted that this problem would have an easy solution. "I turned around and said it's not a simple glue and patch fix," Fundaro said. He didn't stick around to see how the story ended.
Alcohol, Tobacco, Firearms and Explosives
Frank Lesh, the executive director of the American Society of Home Inspectors, had a brush with the law in Chicago while checking the carbon monoxide levels in an apartment. He opened the door and a team of officers from the Bureau of Alcohol, Tobacco, Firearms and Explosives poured in and arrested the apartment's owner. Unfortunately, Lesh had not yet been paid for the inspection. "I look down the hall and say, 'My check!'" Lesh exclaimed.
Full-Service Title Abstracting from Punctual Abstract
Real estate transactions and surprises just don't mix. At Punctual Abstract, we understand that better than anyone.
We are a national title abstracting company located in Harvey, LA, that provides commercial and residential abstracts as well as numerous value-adding services,like document retrieval and filing, curative work, certificate preparation, and more. We even work with local title companies and attorneys to prepare title commitments and opinions. To place your order, please visit our homepage or contact us today.
We perform complete title searches plus attorney opinion package-deals all with the same average turn-time of 24-48 hours!