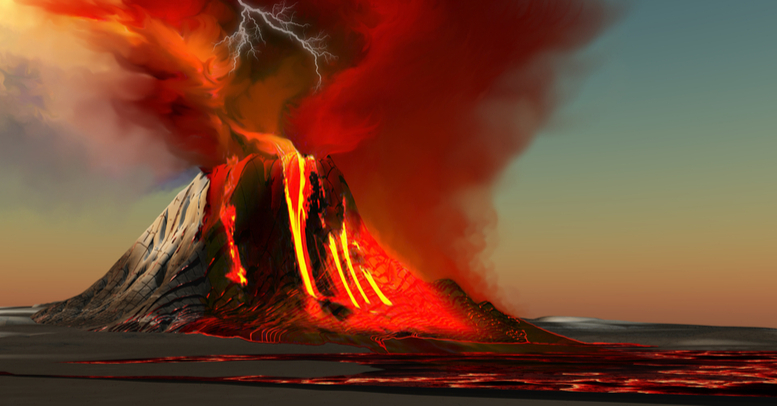 08 Aug
Title and Real Property
Volcanoes create new land, but who owns it?
by Punctual Abstract
The volcanic eruption that started on May 3rd on the big island of Hawaii is still ongoing. Tens of thousands of tons of molten rock have flowed into the Pacific Ocean, hardened, and created new land — terra firma.
It's a process that's been underway on the Big Island of Hawaii for over 5 million years. Foot by foot, yard by yard, and acre by acre, land takes the place of the sea. 5 new acres were added after a 2016 eruption. The 1960 Kapoho eruption added a whopping 500 acres to the island's southeast tip.
Hawaii isn't unique in this regard. In 2012, a brand-new 75-acre island sprang into existence, seemingly from nowhere, in the middle of the Red Sea, the result of an undersea shield volcano eruption. Wikipedia keeps a running database of new islands, though the list includes new land created by "volcanism, erosion, glacial retreat, or other mechanisms."
This all got us thinking: Who owns the new land formed by a volcano? With no previous ownership history, and certainly no need for a title search, is it up for grabs?
Who owns new land created by a volcano?
According to a University of Hawaii at Manoa law professor who specializes in land use, it belongs to the state. These so-called "lava extensions" were the subject of a Supreme Court case in 1977 in which two residents sued the state over 7.9 acres of new land formed by a 1955 Kilauea eruption.
Though their deed (obviously) did not contain any description of the new land, because the deed preexisted the land, the two residents carried on as if the lava extension belonged to them. They planted trees and shrubs and even had part of it bulldozed. In the end, after a lengthy legal battle, the court decided that lava extensions would be for the "use and enjoyment of all the people." Their reasoning is as follows:
"Rather than allowing only a few of the many lava victims the windfall of lava extensions, this court believes that equity and sound public policy demand that such land inure to the benefit of all the people of Hawaii, in whose behalf the government acts as trustee."