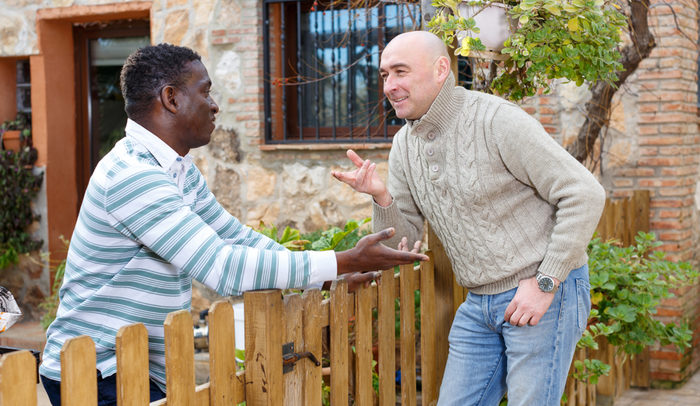 20 Jun
Title and Real Property
Easement Disputes and Neighborly Ways to Resolve Them
by Punctual Abstract
An easement is a legal right to use someone else's land for a particular purpose. If you purchased a home, or a client of yours purchased a home, any easements encumbering the title to the property should have been discovered and presented to you following the search of the title.
Common easements include utility easements, which give the utility company the right to run pipes or wires under or through a property, and private easements, which can be sold to third-parties to grant them legal access to certain areas of the property, such as a road or driveway.
While the definition of an easement is rather simple, and the rights an easement grants should be set forth in clear language, the issues that arise from them can sometimes be confusing. Below are two common residential easement disputes and simple ways to resolve them.
Addition blocked by easement
What do you do if you want to add an addition to your house, or put up a deck or install a swimming pool, but the location is blocked by the path your neighbor uses via an easement?
The first step should be to discuss the matter with your neighbor to see if an alternate path can be agreed upon. If you cannot reach an agreement, or if no alternate path is feasible, check the exact language of the easement. If you don't have a copy, you can locate it via public records or have a Punctual Abstract perform a title search.
Check the specific location of the easement to make sure it's actually in the area your neighbor has been using; the language of the easement could actually resolve the conflict. You'll also want to check whether or not it is a true easement or a simple license. A license is akin to a temporary easement, which may contain language like "This agreement may be terminated by either party for any reason upon 30 days notice."
If you determine that your neighbor's easement is legitimate, there's not much you can do besides trying to convince them to vacate the easement. No landowner can unilaterally terminate a legal easement.
Repairing road or driveway used by neighbors
If your neighbor has an easement to use a road or driveway on your property that needs to be repaired, is there any way to get the neighbor to split the costs?
The first step here should be to talk to your neighbor or neighbors. If they regularly use the road or driveway, they may be equally concerned about its condition because their vehicles stand an equal chance of being damaged. Try and take it up with them and ask them to split the costs.
If this doesn't work, find out if there is an easement-maintenance agreement on file at the county clerk's office. These kinds of agreements are meant to avoid exactly the situation you currently find yourself in.
Your National Abstracting Solution
Accurate. Punctual. One point of contact for local searches nationwide. Punctual Abstract is a SOC 1 Type 1 Certified abstracting firm with millions of abstracts performed since 1993.
Our proprietary software integrates with your title/escrow platform to improve data integrity and SLA's. Projects are generally completed within 24 to 48 hours. Located in Harvey, LA, we offer boots-on-the-ground and online services for Title Insurance Underwriters, Residential Title Agents, and Foreclosure Law Firms nationwide.
Visit our homepage or contact us today for more information.