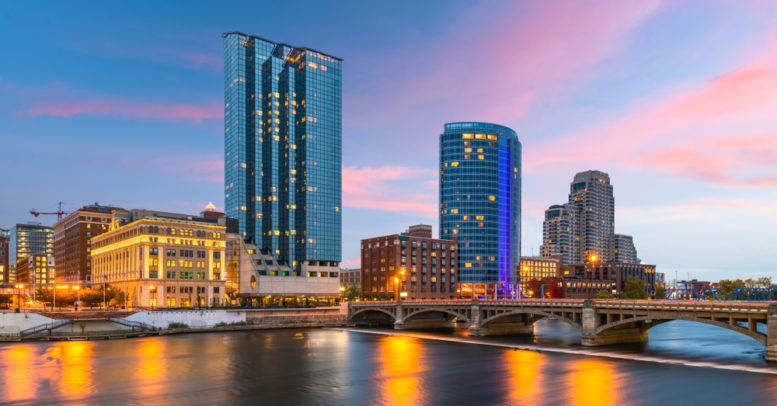 16 Aug
Real Estate
The Great Millennial Migration is On
by Punctual Abstract
The housing markets on both coasts, in cities like San Francisco and Boston, have been red hot for years. Home prices have risen steadily year after year and shown no sign of slowing down — until now, as homes with inflated price tags regularly sit on the market for days or weeks.
Home values in the San Francisco Bay Area, which includes two of the most expensive markets in the country, San Francisco and San Jose, have dropped year-over-year. Values fell over 10% in San Jose just one year after a 24% year-over-year increase.
Not so in the Midwest, in working class cities like Grand Rapids, Michigan (pictured above) and Cleveland, Ohio, where existing-home sales have increased by 13% year-over-year and prices are rising steadily It's part of a larger shift away from the large coastal cities by many older millennials who are now in their mid-30s, looking to start families and possibly less enamored with the whole hipster lifestyle — or simply intrigued by the lower cost of living and reduced housing costs to be found in the Midwest and Heartland.
Regardless of the reasons, the trend is of vital importance to real estate professionals.
And it comes at just the right time.
Existing-home sales nationwide are down 4% in 2019 compared to a year ago. The Wall Street Journal noted in a recent article that "only 10 out of 178 metropolitan areas had double-digit annual price increases, down from two dozen in the second quarter of 2018."
The high-growth areas in the Heartland and Midwest are giving economists, real estate agents and lenders hope for the strength of the real estate sector as a whole.
The "Hottest" Zip Codes in the Country
The list below is courtesy of Realtor.com. The percentage next to each market is the percent of total purchases made by millennials.
Grand Rapids, Michigan – 48%
Omaha, Nebraska – 43%
Boise, Idaho – 28%
Shawnee, Kansas – 43%
Rochester, New York – 43%
Livonia, Michigan – 36%
Melrose, Massachusetts – 43%
Arlington, Texas – 34%
Goffstown, New Hampshire – 43%
Colorado Springs, Colorado – 34%
If you need abstracting services in any of the markets above — or any market across the country — contact Punctual Abstract.
Your National Abstracting Solution with a Local Touch
Accurate. Punctual. One point of contact for local searches nationwide. Punctual Abstract is a SOC 1 Type 1 Certified abstracting firm with millions of abstracts performed since 1993.
Our proprietary software, Punctual Abstract Base System (PABS), integrates with your title/escrow platform to improve data integrity and SLA's. Projects are generally completed within 24 to 48 hours.
Located in Harvey, LA, we offer boots-on-the-ground and online services for Title Insurance Underwriters, Residential Title Agents, and Foreclosure Law Firms nationwide.
Visit our homepage or contact us today for more information.