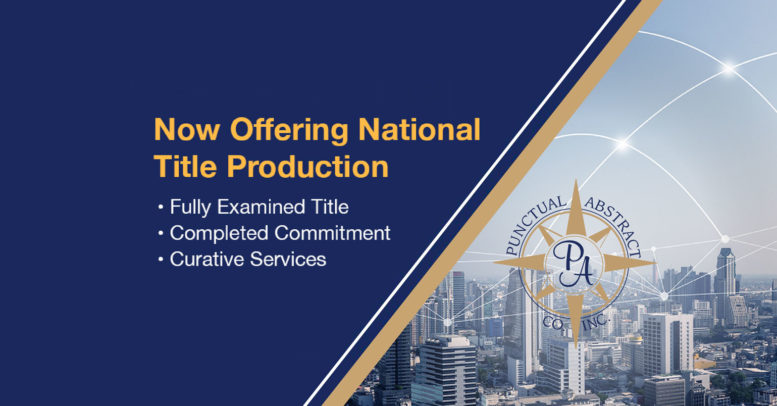 21 May
Title and Real Property
Punctual Abstract Launches National Title Production Services, Kimberley Brown Leads Initiative
by Punctual Abstract
Punctual Abstract, a leading nationwide source for abstracts and title evidence, now offers comprehensive national title production services. Punctual Abstract delivers the abstract, title evidence, ancillary documents—such as HOA estoppels, tax certificates, and municipals—bundled together in a fully examined product.
Punctual Abstract takes title production a step further with curative services that bring the file even closer to closing to reduce agency man-hours and improve turn times. Punctual Abstract's complete title production product integrates with most leading title closing software platforms, or a custom software solution can be created by the firm's advanced in-house IT development team.
Punctual Abstract's National Title Production services are spearheaded by Kimberley Brown, Director of Operations, who joins the team after seven years with Amrock. Brown, a well- respected title operations and process improvement specialist, has dedicated her 25-year career to the title industry on both the production and lending sides.
"Punctual Abstract has its foundation in title evidence and abstracting research. A leading source of title evidence nationwide, Punctual Abstract has performed more than 2 million abstracts since 1993. Now we're taking that expertise to the next level of service by offering a fully examined product, complete with commitment data and all supporting documents, to offer a comprehensive title production service," said Punctual Abstract CEO Ted Woloszyk. "This initiative leverages our proprietary technology to fundamentally improve our clients' processes. Kim's decades of leadership on a national scale provide her with the skill and knowledge to guide this natural expansion of Punctual Abstract's capabilities."
Features of Punctual Abstract's National Title Production:
FULLY EXAMINED:
Fully examined files save agencies a step in the process.
COMMITMENTS:
Commitment-ready data with backup documents gets the file ready to close.
WRITE ON ANY PAPER:
Not tied to any underwriter but have the same reps & warrants.
INTEGRATED:
Syncs to most title production software, delivered right to the agency desktop. Custom software solutions are available to integrate enterprise systems with Punctual Abstract's advanced technology.
FAST:
Most files returned within 48 to 72 hours.
CURATIVE SERVICES:
To achieve a clear title, Punctual Abstract obtains mortgage and judgment payoffs, clears judgments with state guidelines, provides deeds out of trust and back in, provides signature requirements for mortgages.
EASY:
One-point-of-contact for title production nationwide.
LOCAL SUBJECT MATTER EXPERTS:
Local affiliates flex their jurisdictional expertise while utilizing Punctual Abstract's advanced technology to deliver fast, accurate and integrated title products
Ready to get started?
PLACE YOUR ORDER TODAY!