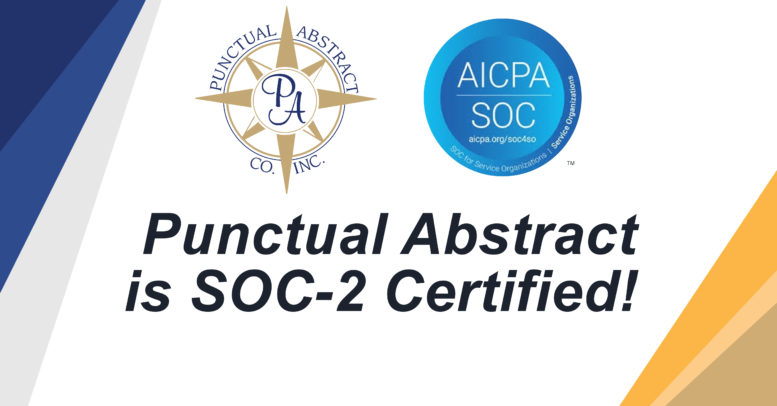 04 May
Press
,
Title and Real Property
Punctual Abstract Achieves Soc2 Type 1 Certification
by Punctual Abstract
Punctual Abstract, a leading nationwide source for abstracts, title evidence, and comprehensive national title production services, has achieved its SOC 2 Type1 (Service Organization Control ) certification in an independent audit of the firm's internal data and security control systems.
"Our SOC 2 Type 1 certification is a demonstration of Punctual Abstract's dedication to data security and internal controls. We underwent the examination and certification process to assure our customers that safeguarding their data is of prime importance," said Ted Woloszyk, CEO of Punctual Abstract.
This SOC 2 Certification followed a SOC 1 Type 1 examination and certification in the Fall of 2019. A SOC 1 audit covers controls around processing and securing customer information, spanning both business and IT processes. A SOC 2 goes much deeper, examining a business' system security, confidentiality, availability, privacy, and/or processing integrity across various systems. Punctual Abstract's SOC 2 reports on a broad array of systems and focuses on the following criteria:
Security: The system is protected against unauthorized access, use, or modification. The system is available for operation and use as committed or agreed.
Processing integrity: System processing is complete, valid, accurate, timely, and authorized.
Information designated as confidential is protected as committed or agreed.
Information collected, used, retained, disclosed, and disposed of is in conformity with the commitments in the entity's privacy notice and with criteria set forth in generally accepted privacy principles (GAPP).
Punctual Abstract's SOC 2 examination looked at everything from data security and disaster recovery planning to employee data security compliance training and limited and restricted physical access to the firm's office locations.
To download a copy of Punctual Abstract's  SOC 2 Report, visit:  (this url will change)_https://www.punctualabstract.com/soc-2/
ABOUT PUNCTUAL ABSTRACT
Accurate. Punctual. One point of contact for local searches nationwide. Punctual Abstract is a leading nationwide source for abstracts, title evidence, document recording, and comprehensive national title production services. Punctual Abstract is a SOC 2 Type 1 Certified abstracting firm with millions of abstracts performed since 1993. Our proprietary software integrates with most title/escrow platforms, or we can provide a custom solution, to improve data integrity and SLA's. Headquartered in the New Orleans metro, Punctual Abstract is a technologically advanced abstracting firm offering a national solution with a local touch. PunctualAbstract.com