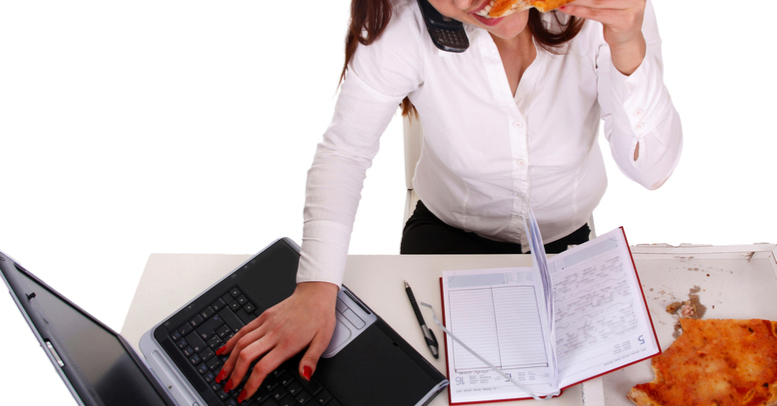 21 Aug
Stress eating: why we do it and how to stop
by Punctual Abstract
Call it what you want: comfort food, emotional eating, stress eating—but we all do it to some extent. After a long and stressful day, we reach for something tasty that requires little or no preparation. It's what psychologists call a coping mechanism, something that takes your mind away from the stress.
Stress eating every now and then is no big deal. It's when it becomes a habit that it can be really detrimental to your health. A recent American Psychological Association survey found that 40% of adults overate or consumed junk food in response to stress in the previous month. 20% did so on a weekly basis.
So how do you stop stress eating in its tracks?
By being prepared. Doctors and psychologists who study stress and eating have uncovered numerous ways to short-circuit the connection between your brain and your belly when you're stressed. Here are a few of our favorites, which can easily be used in an office setting:
Go Nuts
Walnuts, pistachios, and almonds are all packed with healthy fats and B vitamins, the latter of which naturally helps reduce levels of cortisol, the stress hormone. Keep a jar of nuts on hand — in your office, at your house — and you've got a healthy way to relieve your hunger and reduce your stress.
Take a walk
It sounds counterintuitive, because walking (and every other kind of exercise) burns energy. But taking a brisk 15-minute walk will release endorphins that provide a sense of relaxation, which will cancel out the stress-induced cravings and make you feel better too.
Cinnamon
This tasty spice has been clinically proven to curb hunger cravings, and it does the trick whether in powder or tea form. Sprinkle some in your morning coffee to help you get to your lunch break without snacking!
Corporate Wellness from Punctual Abstract
Punctual Abstract is more than a national title abstracting company. We are a team that cares about the emotional, mental and physical wellbeing of every team member. That's why we partnered with Rack City Gym and Hunter Training Systems to give our employees easy access to personal trainers and workout equipment.
The end result has been healthier, happier employees (and CEOs) as well as a measurable increase in productivity! To learn more about our Corporate Wellness Program, or if you need help fulfilling your title and abstracting needs, call us at 800-588-0046 to speak with our team today!